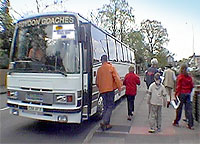 On Sunday 27th April the long awaited Magical London Astro Tour got under way. At about 10am, about thirty members of Society gathered at Hayes Station to embark it. First stop was the Library at Hayes. It was once the Rectory, and home to T. J. Hussey who built an observatory and made part of a star map published by the Berlin Academy in 1832.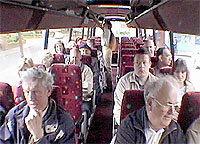 The route to our next stop took us through Bromley, and past the site of the Wray Optics factory. Along the way we heard about John Lubbock, William Steavenson and William and Margaret Huggins. We took a short detour past the one time home of William Steavenson. The concrete base (for his fine Wray refractor) is still in the garden there. At Wandsworth Common we visited the place where John Craig's 85 foot long 24 inch refractor once stood. It was for a time after it was erected in 1852 the largest refractor in the world, though it was not as successful as John Craig had hoped it would be.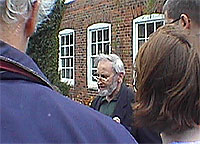 As the coach took us north of the Thames we heard about King George's observatory at Kew and Ainslie Common's at Ealing; about the Crystal Palace and the Great Exhibition, James South, and John Russell Hind. We passed the London Planetarium, and stopped next at The Monument, Wren's memorial to the Great Fire, and of astronomical interest because it once housed a zenith telescope. From there we headed south past the South Bank Complex on the site previously occupied by the Festival of Britain towards Blackheath, hearing, on the way, about James Buckingham, George Biddell Airy and John Harrison.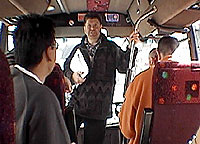 At Blackheath we passed the homes of Stephen Groombridge and John Wrottesley before visiting Edmund Halley's tomb. Our final stop was to see the meridian mark in the pedestrian tunnel under Hither Green Station. It was a fascinating day's exploring that revealed much about the astronomical observation, discovery and engineering that has taken place over several hundred years in and around London.
Many thanks to Greg, Gilbert, Anton, Lyulph and Paul for all the research that went into finding the locations, preparing the excellent hand-outs, guiding the coach, and telling us all about the various people and events along the way, and to the coach driver for putting up with our strange route.