Our observing evenings are less formal get-togethers for the Society. We have the use of a hall in Otford that adjoins a large field suitable to set up equipment for observing the sky. In addition, we arrange imaging sessions and deep sky camps.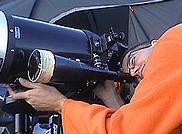 Observing Evenings provide an opportunity to meet and discuss equipment and viewing opportunities and share insights and setbacks in astrophotography.
Observing evenings are held every month, usually on the third Thursday. The venue is Otford Village Memorial Hall. The adjoining car park is free (in the evenings) and has spaces for 110 cars, so there is always space, despite the likelihood of the local dramatic society bagging some. The venue consists of a large hall, where we gather for tea and biscuits and a chat from about 7:30 pm. Double doors open out onto the Otford Recreation Ground – a large field mercifully protected from street lighting, and a good place to set up scopes to share views and sights. We generally close down around 10 pm, unless there are good reasons to continue observing.
Some members may also call for ad-hoc observing evenings if there are particularly interesting celestial events or if the weather delivers especially favourable viewing conditions. These informal meetings, after being advertised on the Forum (member login required) usually at quite a short notice, take place in the Otford Recreation Ground.
Imaging Sessions
Some members host occasional Imaging Sessions at their own houses. These usually start at 8.15pm, and will be announced at our regular monthly meetings.
Deep Sky Camps
Deep Sky Camps are usually arranged a few times a year where members stay at dark sky venues to view and photograph the sky.
Please always try check the forum for details of the arrangements before an event.