The Society holds meetings every month to learn about developments in astronomy and equipment. The highlight of the meeting is a talk by an invited speaker or member of the Society followed by discussion.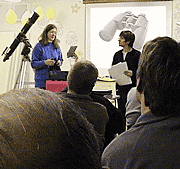 Meetings usually start at around 7:45 pm, with introductions and notices. They usually include an Observer's Report – a brief overview of astronomical events for the upcoming month and a display of members' astrophotography. There is a break for tea and coffee where you can meet members and share your interests and queries with them.
Meetings are held at St. Francis of Assisi Church Hall on Greencourt Road in Petts Wood. Parking is available in Greencourt Road and other nearby streets.
People interested in joining the society are welcome to attend a couple of meetings as guests.
Some of our meetings are given by well known astronomical personalities, and others are home grown and ideally suited for absolute beginners.
The reports of past meetings give a few examples. Throughout the year we make sure topics, both new and old, are covered and give particular attention to local newsworthy items.
There's plenty of advice especially if you're buying that all important first telescope!
To see a list of future meetings, click here.
Next Meeting — Wed 25th May, 2022
Imaging Black Holes with the Event Horizon Telescope
Dr Ziri Younsi
Dr Ziri Younsi is currently a UKRI Stephen Hawking Fellow in the Department of Space and Climate Physics at University College London. He gained his PhD in Astrophysics at UCL in 2014, then became a post-doctoral Fellow in the Black Hole Imaging Project, based in the Goethe Universität Frankfurt, Germany.
His research was concerned primarily with calculating and analysing the emission of radiation from matter in the vicinity of compact objects, in particular black holes. Our present knowledge of black holes is inferred through radiation emitted from extremely hot material falling into the event horizon. Whilst direct imaging of a black hole is impossible since light cannot escape the event horizon, by studying its gravitational influence on nearby matter and radiation we can infer its properties.
The meeting will start at 7:45pm and doors will open from 7:30pm.
(
Details…
)
Please…
If you would like a specific subject to be covered at one of our monthly meetings why not send us an email. We do our best to get interesting and up-to-date talks organised, but sometimes our newer or younger members would like to know something about the sky that we have not yet covered. Perhaps teachers may like a senior member of our society to give a talk about astronomy to their school, we would be most pleased, just send us a message.