The Start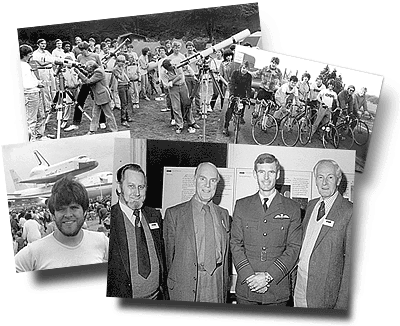 On 16 October 1980, 35 people met at Darrick Wood School and decided to found an astronomical society. That meeting was the culmination of months of preparation by a steering committee, thanks to whose efforts it was possible to proceed at once to adopt a Constitution and elect a definitive committee. We were fortunate to
have Patrick Moore as Patron of the society from the early days.
The Society really grew out of the adult education classes Gilbert Satterthwaite (our first President) had been running in various parts of the Borough for the previous 10 years – starting on acutely uncomfortable infants' chairs at Raglan Primary School, and continuing at other centres in Bromley, Hayes, Chislehurst and Orpington.
It was agreed that anyone enrolling by the 31st October 1980 should have the status of a Founder Member: when the list closed there were 62 Founder Members. Some of them are, alas, no longer with us, but several have remained active throughout the years. Inevitably, societies such as ours have their 'ups and downs'; their histories must therefore include tales of failure as well as success.
Two of our initial aims when founding the Society resulted in one of each: to visit some of the major observatories in the USA, and to build and equip our own observatory.
The U.S. Tour
After 18 months of effort and two failed attempts, a tour of American observatories and space centres finally took place at Easter 1982, and during the next 17 days we visited the Kennedy Space Centre at Cape Canaveral, the Kitt Peak National Observatory, the Lowell Observatory, the US Naval Observatory and US Geological Survey.
We stayed overnight to watch the Sun rise over the Grand Canyon. Later we travelled to California to view the legendary instruments at Mount Wilson and to enter the cathedral-like dome of that most evocative of great telescopes, the 200-inch on Palomar Mountain.
Subsequent visit programme
Numerous visits have since been made to places of astronomical interest, including the Cambridge Observatories, the Old Royal Observatory and Planetarium at Greenwich, the National Space Centre in Leicester, Herstmonceux, and Jodrell Bank. Overseas, in addition to the tour of the USA, the Society has visited observatories in Iceland, Paris and Portugal and has been twice to CERN in Switzerland.
Our Ill-Fated Observatory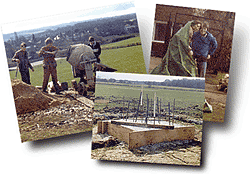 At first, it seemed that our attempt to build an observatory was likely to prove equally successful. Many members spent long, hard days measuring, digging, pushing wheelbarrows of spoil, pouring concrete and so on. Not least, there were countless hours of planning, correspondence and negotiation.
At last we could see the building beginning to rise that would house the 18-inch reflector we had bought from another society near Southampton.
Alas, it was not to be. The local authority suddenly announced its plans to install a floodlit sports arena on the adjoining site! We were forced to abandon the project and sell the telescope. This was a blow from which the Society took a long time to recover.
Observing continued, however, though not in our own observatory; numerous observing sessions have been held at a variety of sites in the area, and we now own several smaller instruments suitable for members to use in their own homes.
Anniversary Meetings
The Society is old enough to have celebrated numerous anniversaries. The next few pictures recall some of them.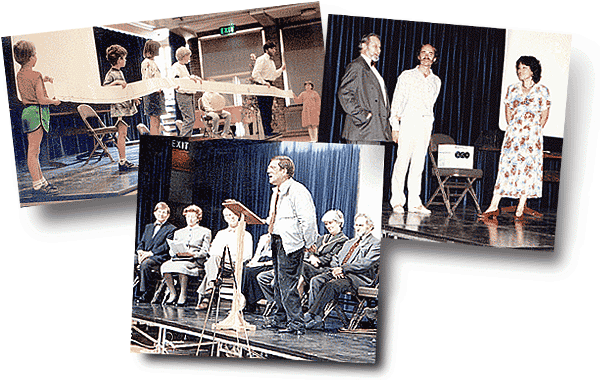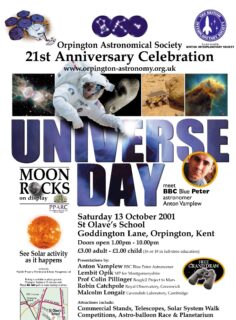 Communication with members
Early on in its existence the Society started to publish a regular newsletter. Over the years this developed into our much-loved TOAST (The Orpington Astronomical Society Times). Now published 4 times a year it is sent to members by email.
The advent of the internet made a huge different to our ways to communicate and share our enthusiasm for Astronomy. The OAS website has become a major source of information about our activities. Ian Tonks created our Forum back in 2002. At the time of writing the Forum had hosted just under 70,000 posts from members on nearly 9,000 Topics. While it is still a valuable source of information about current astronomical topics, and particularly the trials and tribulations of imaging, it has to some extent been superseded by international internet forums like Cloudynights and Stargazers Lounge. Hence the Society established a WhatsApp group in 2022 for members to use for alerts and topical discussions that don't involve detailed discussion of images or equipment.
Evening Meetings
Over the years we have been privileged to welcome many fine speakers at our monthly meetings. Their talks have covered most aspects of the subject, from the elementary to the highly complex, from astronomical history to reports of what is currently happening at the forefront of research.
In recent years the monthly evening meetings have taken place at St Francis Church Hall in Petts Wood. The format has settled into a familiar pattern – an Observing Officer presentation on the astronomical highlights of the coming month; an Imaging Officer presentation of members' images acquired during the previous month followed by the talk by an invited speaker. The use of the Hall allows plenty of time for members and guests to meet – gathering beforehand and then sharing gossip and insights over a hot drink in the break.
The Covid pandemic of 2019-22 could have disrupted the meeting programme, but rapid deployment of the Zoom application meant that meetings continued almost uninterrupted, albeit with the social element severely curtailed. Having gained experience in deploying Zoom, the Society became adept at providing the opportunity for members who were away from home or unwell to continue to participate, even after normal meetings resumed.
The Observing Evenings have always been important to discuss hardware and, when the weather permits, to do a bit of observing. The informal nature of the meetings in Otford make them an ideal opportunity for individuals new to the activity to meet members who are keen to share their practical experience of astronomy and advise on the use of different types of observing equipment.
Outreach

An important part of the Society's activities (and an obligation in our constitution) has always been to reach out to our community to interest and inform young people and locally active groups in the developing science of astronomy and the many associated missions to discover more about our universe.
The Society responds to requests from local schools and scout groups to provide talks and support events. Golf clubs, Rotary Societies and Womens' Institutes are also visited. Our stock of observing instruments was supplemented in 2003 with a professional solar observing scope, following a successful bid to the National Lottery. This enabled us to provide real observations of the sun in daylight hours – a bonus when visiting schools.