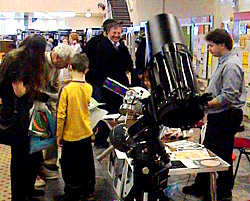 Bromley Council, through their Adult Learners Programme invited the OAS to put on a display at Bromley Central Library on Saturday 10th May. Always keen to follow up on any form of promotion, the committee decided to take a table, ask for volunteers to man (or is that person) the stand and despite the very short notice, take up the challenge to put on a small exhibition of what is the Orpington Astronomical Society does.
Jeff Harries, Paul Whitmarsh and Greg were first on the scene, setting up the table with promotional material, 3D pictures, the all important membership forms and of course telescopes.
Greg and Delphine had had experience of this type of request from the local council before, so it was expected that the day would pass more or less without incident – no many people would stop or pause at the stand and move on. However things did not turn out that way at all. The table was positioned at the top of the main stairs coming into the library – a very good position indeed! Within only a short time after the doors had opened visitors to the library were pausing and stopping and best of all chatting to the various OAS volunteers that had joined the stand during the day. Tom Meecham and Sean Mulcahy were on hand to give advice and indeed rarely sat down before there was another inquiry.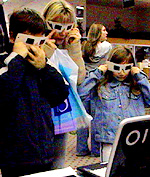 About midday, Joe Sheahan and Tony Buick (along with his son) were also seen giving advice. Indeed, Tony's past skills as a teacher came into play with the children – so hopefully he may have encouraged several parents to bring along some new younger possible members.
There was one noteworthy incident at the very beginning, shortly after the doors to the library had been opened to the public. A slightly scruffy man in his mid to late twenties came up to the table asking if we could answer a simple scientific question about "what size lens dose it require to see the mess that David Beckham fans had left in Bromley". It was an interesting question OAS members thought. Unfortunately, they were unable to provide an answer as the man began to rant. Within a very short time his attitude had become almost violent and his voice had gotten so loud that there was an echo off the far side of the cavernous Bromley library. He then left…
…now back to the question "what size lens does it require to see the mess that David Beckham fans had left in Bromley". If any members wish to pursue this as a valid point, then there is always the forum….