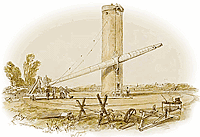 It was never going to be an easy task to find the remains of the Craig Telescope that once stood on the Wandsworth Common.

Greg Smye-Rumsby's initial studies revealed tantalising evidence for the siting of the telescope in 1852.
Unfortunately, when the derelict telescope tower was demolished in 1871 no acurate record was taken of its position within the grounds of the observatory. Perhaps because not many people lived in that part of the common at that time and because it had stopped functioning as a telescope at least 14 years earlier!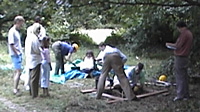 Our dig was made possible by Channel 4's archreaological programme Time Team. They had put together a plan called the BIG DIG to allow self confessed amateur archeaologists to dig a 1-metre by 1-metre trench, half a metre deep in there back gardens, but also it meant that as long permission had been sort, to dig virtually anywhere! The Orpington Astronomical Society chose Wandsworth Common. Although a little outside the area of Orpington it was considered good enough to continue.
After much preliminary work finding old maps, articles and newspaper cuttings a "best guess" plan was hatched. It essentially meant that we only had one chance at this dig so we had to get it right. Although, we had sort permission to dig on the land from the Wandsworth Council, we did not need to approach English Heritage, the effective land "owners", as Time Team had already been granted a special waver for the 1-metre trench. The theory being that a small trench, even if carried out badly, would do very little damage to any archaeology.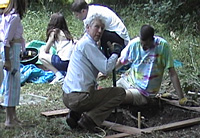 The weekend of 28-29 June was the date fixed by Channel 4. Everything had to be in place. Everything from all the preliminary work, to making sure we had enough helpers and volunteers, to making sure there was a toilet! It was also essential that anyone that wanted to get involved understood exactly what was required of the dig both from our point of view and also Time Team's.
The area that was chosen was just off Lyford Road on the west side of the Wandsworth Common directly oppsite Frewin Road. Several candidate targets called "sites" has already been chosen from various gephysics that had already been done. The Orpington and District Archaeological Society very kindly undertook a "resistence" survey on 1st June. This proved a little confusing because the results showed very high levels of resistence, demonstrating possibly the presence of concrete just under the ground. Later another survey was conducted by a company called Sandberg using ground penetraing radar (GPR). These results were even more confusing because at first glance it showed two areas that could have been candidates for the tower remains.
Based on these two underground surveys, two surface visual surveys and a metal dectorist survey, the site was commenced.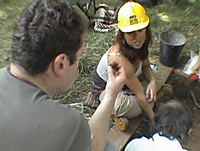 Saturday 28th June, started with a debreifing by Rachel Lovera – the site manager, poiting out all the various aspects of a good and safe dig. Soon, however, everyone was marking out our first trench. It was placed on "site3″. This was an area that had shown up well on the radar imagery. It prove inconclusive. By the time we had reached what was considered 'natural" at a depth of 200mm, we only had a handfull of small brick and glass finds. The picture was very unclear. Still ignoring the "resistence" geophysics data, and after some long and well argued suggestions by Paul Whitmarsh, another trench was opened. This was placed on the north western slop – of what was becoming increasingly clear as the grass was getting trampled down – a slight but distinct depression. After a great effort by Tony Buick, Geoff and Miriam Harries and Mike and Christina McRoberts with Frank Witham recording the results (he had only come to watch but got well and truely stuck in) it was concluded that there was more evidence of building material – however nothing significant!
By late afternoon, the Channel 4 camera crew had captured all they were going to. It was now up to us to find conclusive evidence on the Sunday before they would return. Greg had already been told that – if we were on the programme in the evening – it would only be for less than a minute. Well, we were on the Time Team programme and it was for less than a minute. It was interesting however, that on the first evening we were the only insert into the programme that did not have an overseeing archeaolist alongside the amateurs!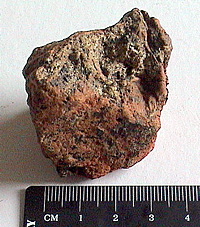 Sunday was going to be a successful day! Tony Buick had already said on the Saturday that he would not be able to make for the Sunday dig – so it was surprise to see him as one of the early helpers. Later we had Brian Weller, Ray Hemming and various other members of the Hemming family including little Jade (great enthusiastic helper). Sue Peters came along to give a hand aswell. Rick Hewitt made sure nothing had been left out of the recordings. The third trench was put in just one metre south of the area picked out on the "resistence" geophysics as being a possible candidate. This trench was a goodie. There were lots of finds – more brick more glass and some motar.
Late afternoon, we dug our last trench. After an amazing tea break offered by one of the local people – very welcome. This trench or "Site 4, trench 3, context 1 & 2" to give it its actual name, proved very interesting indeed. The first upper layer or context showed a much higher level of demolition evidence – high levels of broken brick all more or less of the same colouring, pieces of broken mortar in great quantities, along with the usual bits of iron and charcoal. By the time we had finished it was obvious we had touched very close to where the telescope had once stood. It was also becoming more and more obvious that the telescope had probably been completely removed in the original demolition.