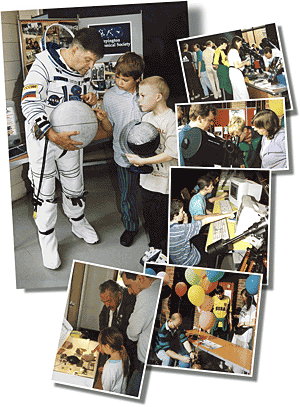 The day started out with clearing blue skies and as the morning progressed the weather only got better.
By the time the doors opened we were ready for anything. Manning the entrance was Lucinda Jones and Delphine Murray. Our first visitors were the Mayor of Bromley and his wife who were greeted by the Society's President Gilbert Satterthwaite. Our first speaker, Professor Colin Pillinger of the Open University's Beagle 2 project – Mission to Mars, arrived just in time for the opening ceremony, immediately after which he gave a wonderful presentation, explaining where we were with regard to the mission and to its place in the exploration of Mars.
During the day many visitors were keen to see firsthand the Lunar Rock Samples that were on display. Miriam Harries was given the Guardianship of these valuable exhibits ably assisted by Frank Witham. So successful were the Moon Rocks, that more than 200 people wanted to see them.
Our society desk, which was manned by Rick Hewett, saw many enquiries with some visitors becoming members there and then!
Lyulph Lubbock and John Anthony managed to keep all the volunteers on their toes especially during the busy periods. While the task of making sure cars parked in the right part of the school grounds fell to Bob Webber (his wife helped supply many of the cakes on sale in the refreshments area).
The Hemming Family undertook virtually all the catering for the day, supplying fresh sandwiches and home made cakes.
Tim Atkinson, Shane Dallimore,Paul Whitmash and Ray Hemming showed off their precious computers to the public, demonstrating everything from simple graphics, computer animation and image processing to sky programmes designed to steer their telescopes to exact positions in the sky.
Many visitors browsed the commercial stands for gifts, equipment and books. In the same hall was the Astrodome – a fascinating inflatable planetarium.
Greg Smye-Rumsby could be seen running around in a Russian spacesuit – why?, no one really knows, but it proved popular with the kids.
Outside, thanks to the weather, the Astro-balloon Race and Solar System Walk proved very successful. Also was the views of the Sun through an 8″ Meade with a Hydrogen Alpha filter, where several large prominences could be seen licking the solar limb.