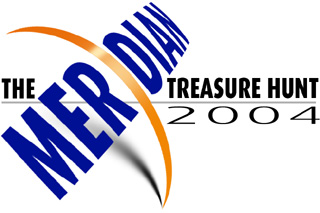 On the 6th June 2004, to celebrate the 120th anniversary of the Greenwich Meridian, the Orpington Astronomical Society held a treasure hunt from Sheffield Park near Uckfield in Sussex to the famous royal park and Observatory in Greenwich. It could not have been staged on a better day. The weather was extremely pleasant. The starting point had been chosen as Sheffield Park Railway Station on the Bluebell Steam Railway in Sussex as the platform is cut diagonally by the famous line.
By 10:00am several of the competitors had turned up to see if they could win the Orpington Astronomical Society Longitude Prize. Many felt they had a chance.
After setting out cross-country many seemed to pick up the carefully laid trail very well. Passing as close to the actual Greenwich Meridian as possible meant travelling along some fairly poor roads.
On the way not only were there questions to answer but also problems to solve. One such difficulty was to write a limmerick using as many details relating to this special 120th anniversary celebration of George Airy's famous line.
A Meridian Marker

The winning entry was:-
That wretched Meridian Prime
Has Airy committed a crime?
'cos we keep getting lost
at considerable cost
let's hope we make Greenwich, meantime.
By 6:15 it was decided to announce the winner. The organisers had taken great care to make sure everyone had answered all the questions and solved all the problems. Malcolm Pullen had done a sterling job in completing the task admirably well and indeed his peom was considered one of the best, earning him, his navigator and passengers first prize. It was duly awarded him by Robert Massey of the Royal Greenwich Observatory.
Meridian Treasure Hunt turned out to be a great day for everyone. Starting down at the Sheffield Park at the main station on the Bluebell Railway, the competitors started their day early. After being given clues and problems to solve they set out on a cross country trek that eventually ended at the famous observatory in Greenwich where it all began.