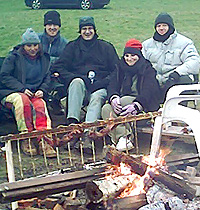 When it comes down to it, winter is a time when there is very little heat – basically it's cold, very very cold. But there are rewards if you can stand that sort of temperature regime – the skies are magic.
Not eveyone that came to the camp stayed over. Not everyone that came to the came was sane, but on the Friday night the sky was a fantastic vault bespeckled with stars – lots and lots of stars. Orion was well placed. Through Malcolm's 6-inch reflector, its central nebula lit up like a beacon. One of the most notable sights in the sky was a fuzzy patch that most people were surprised to see. It showed up between Gemini and the rising form of Leo. Incredibly, it was Praesepe (M44) in Cancer.
The sky stayed clear until 4:00am, when Paul realised it was clouding over. Paul was actually the only one brave (stupid) enough to stay out in the cold night air. During his long evening vigil he manged to capture three close galaxies in Leo on his CCD setup.
As usual Penny, whose field it is, brought us warming soup. Her soups are becoming somewhat of a feature of the camps.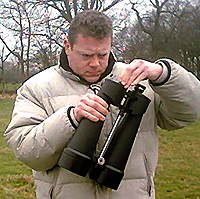 On Saturday, Rachel had been asked by Paul to bring some rabbit to cook on the fire, while he and Mike made an excursion to track down the much awaited 100mm binoculars that Mike had purchased from the States. They had to drive all the way over to a postal depot in the far off regions of Mordor only to return to find that in transit the binoculars had been damaged!!
The rabbits tasted excellent much better than expected since the cold temperatures and the biting wind meant that the sides of the rabbit facing the fire were cooking nicely, but the sides facing away were turning to ice. However after a little coaxing from Rachel the rabbits were warmed through thoroughly before being eaten. Interestingly, Sebastian – a meat eater – no vegetables – just meat, didn't want any of the little bunnies. Despite a warning from the butcher about buck shot, Greg still managed to find some.
The society Solarscope made an appearance, but because of the extremely inclement weather, it stayed in its box.
There was also a nail biting game of boule in which Mike won – and when he wins everyone knows it. He likes to win.
Saturday night was very windy and competely overcast – but spirits were high. Greg, Rachel and the kids had taken the sensible precaution of sleeping at home so after dark the only ones remaining were Paul, Mike, Cris, Miriam, Jeff, Chris and Malcolm.
Sunday night, the sky was nearly as good as Friday.