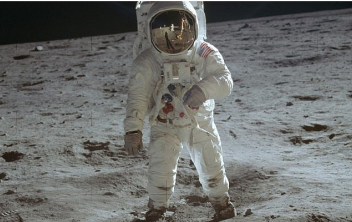 Barry Kellett works at the Rutherford Appleton Laboratory (RAL) which carries out world class science research and technology development. RAL Space has been involved in over 200 space missions and is an integral part of the Science and Technology Facilities Council.
Barry introduced his talk with a brief history of the Apollo programme and the development of the Saturn V rocket that took astronauts Neil Armstrong, Buzz Aldrin and Michael Collins to the Moon on Apollo 11. The talk described the challenges of the various missions, the training involved and the  ultimate triumph of the moon landings. Barry focused on various dilemmas that faced Armstrong and Aldrin as they navigated their lunar module to its landing site.
The talk also included a description of the various experiments that were included in the Apollo programme, but Barry pointed out that science was only a minor part of the first few missions. Of these, the most valuable scientific project from the Apollo programme was probably the collection of lunar rock and soil samples that were brought back to Earth. Among the samples were small fragments of a white rock 'anorthosite' – a very rare mineral on Earth.
The final part of the talk addressed the various conspiracy theories that claimed the Moon landings never happened. Barry highlighted the main hoax claims, but then gave technical reasons that disputed these claims. The talk concluded with reference to the Apollo legacy and a few comments made by the astronauts on their epic mission, with Aldrin describing his impression of the Moon in two words – magnificent desolation!