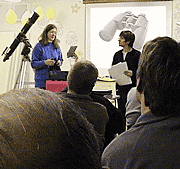 Covid-19 precautions: Members are asked to follow the instructions on the notice of the meeting which has been emailed or posted to you.
We meet every month, usually on the fourth Wednesday of the month, (the December meeting will generally be on the third Wednesday). Meetings start no earlier than 7:30pm and end before 10:00pm. They are usually held at St. Francis of Assisi Church Hall on Greencourt Road in Petts Wood.
There should usually be parking in Greencourt Road and other nearby streets.
People interested in joining the society are welcome to attend a couple of meetings as guests.
Some of our meetings are given by well known astronomical personalities, and others are home grown and ideally suited for absolute beginners.
The reports of past meetings give a few examples. Throughout the year we make sure topics, both new and old, are covered and give particular attention to local newsworthy items.
There's plenty of advice especially if you're buying that all important first telescope!
Please…
If you would like a specific subject to be covered at one of our monthly meetings why not send us an email. We do our best to get interesting and up-to-date talks organised, but sometimes our newer or younger members would like to know something about the sky that we have not yet covered. Perhaps teachers may like a senior member of our society to give a talk about astronomy to their school, we would be most pleased, just use the Enquiries form to send us a message.