The Start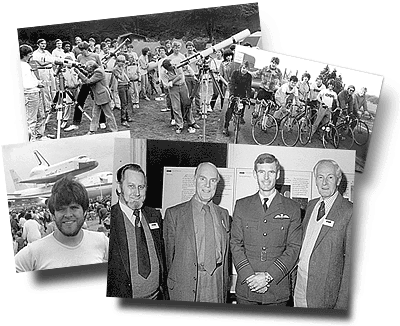 On 16 October 1980, 35 people met at Darrick Wood School and decided to found an astronomical society. That meeting was the culmination of months of preparation by a steering committee, thanks to whose efforts it was possible to proceed at once to adopt a Constitution and elect a definitive committee. The Society really grew out of the adult education classes Gilbert Satterthwaite (our first President) had been running in various parts of the Borough for the previous 10 years – starting on acutely uncomfortable infants' chairs at Raglan Primary School, and continuing at other centres in Bromley, Hayes, Chislehurst and Orpington.
It was agreed that anyone enrolling by the 31st October 1980 should have the status of a Founder Member: when the list closed there were 62 Founder Members. Some of them are, alas, no longer with us, but several have remained active throughout the years. Inevitably, societies such as ours have their 'ups and downs'; their histories must therefore include tales of failure as well as success.
Two of our initial aims when founding the Society resulted in one of each: to visit some of the major observatories in the USA, and to build and equip our own observatory.
The U.S. Tour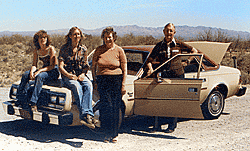 After 18 months of effort and two failed attempts, the tour of American observatories and space centres finally took place at Easter 1982, and was adjudged a major success. A total of 25 members, relatives and friends left a cold, damp Gatwick Airport for the sunnier climes of Florida. Our first gathering as a party was by the sun-drenched swimming pool at 9.00 a.m.!
During the next 17 days, from our bases in Orlando, Tucson, Flagstaff and Los Angeles we visited the Kennedy Space Centre at Cape Canaveral, the Kitt Peak National Observatory, the Lowell Observatory, the US Naval Observatory and US Geological Survey. We observed Mars with Lowell's own 24-inch refractor and the Orion Nebula with the USNO 61-inch reflector. We also looked at the skies in the Griffith Planetarium (Los Angeles) and the Flandrau Planetarium in Tucson – one of the newest and best.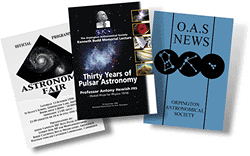 We travelled for many miles along the southern rim of the Grand Canyon and stayed overnight to watch the Sun rise over it. Later we flew over the Canyon, the extensive volcanic terrain nearby and over the great Canyon Diablo Meteor Crater (which we explored 'on the ground' the following day).
On to California to view the legendary instruments at Mount Wilson and to enter the cathedral-like dome of that most evocative of great telescopes, the 200-inch on Palomar Mountain. We watched the great instrument being prepared for the next night's work and talked to the astronomers involved. For a fortunate few of us, there was the ultimate thrill of actually standing in the Cassegrain focus cage, suspended beneath the mighty 15-ton mirror, to inspect the CCD camera.
These were just some of the highlights of that 'trip of a lifetime' – to say nothing of good fellowship; spectacular scenery; visits to Disney World, Sea World and Universal Studios; some memorable meals – and of course, the odd delayed flight! We hope one day to arrange a similar tour.
Our Ill-Fated Observatory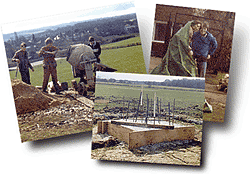 At first, it seemed that our attempt to build an observatory was likely to prove equally successful. Many members spent long, hard days measuring, digging, pushing wheelbarrows of spoil, pouring concrete and so on. Not least, there were countless hours of planning, correspondence and negotiation.
At last we could see the building beginning to rise that would house the 18-inch reflector we had bought from another society near Southampton.
Alas, it was not to be. The local authority suddenly announced its plans to install a floodlit sports arena on the adjoining site! We were forced to abandon the project and sell the telescope. This was a blow from which the Society took a long time to recover.
Observing continued, however, though not in our own observatory; numerous observing sessions have been held at a variety of sites in the area, and we now own several smaller instruments suitable for members to use in their own homes.
Anniversary Meetings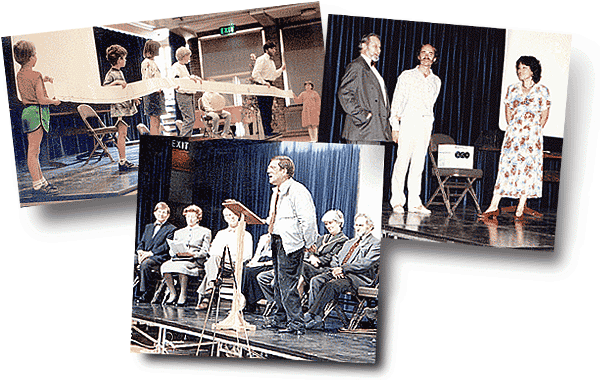 Over the years we have been privileged to welcome many fine speakers at our monthly meetings. Their talks have covered most aspects of the subject, from the elementary to the highly complex, from astronomical history to reports of what is currently happening at the forefront of research.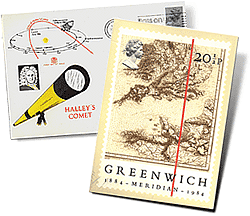 We have had firsthand accounts of total eclipses observed in distant parts of the world, and our own members have described their own observations and demonstrated their computer programs.
A recent innovation has been 'meteorwatch' evenings, when the public have been invited to join us in observing the major meteor showers.
A number of visits have been made to places of astronomical interest, including the Cambridge Observatories, the Old Royal Observatory and Planetarium at Greenwich, and the Herschel Museum in Bath, and more visits are planned.
Other Activities
We have participated in astronomical quizzes against neighbouring societies and have also joined them for less serious pursuits, such as cricket, rounders, snooker and 'après-ski'! In 1989 we reached the Quarter Finals of a national quiz competition, losing by a single point to Reading A.S. It has not all been serious astronomy – we have also held regular dinners, a successful Barn Dance, and numerous barbecues.